Easily Monitor IIS Performance
Retrace provides simple and robust monitoring 
HTTP checks

 IIS application 

IIS status

Performance counters

Plus: Advanced monitoring & metrics
Holistic monitoring for your ASP.NET applications
All you have to do is install and Retrace will auto-detect your ASP.NET applications and automatically start monitoring all the basics. Including key Performance Counters and if your IIS Site and Application Pool are running.
Retrace also does lightweight profiling of your ASP.NET code. This gives you code-level visibility to understand how your application is performing and how to improve it.
Track performance of every ASP.NET web request in your application

Advanced error monitoring and tracking

Identify slow SQL queries

Understand the performance of application dependencies including web services, caching, queuing, etc

View code level transaction traces
Setting up your trial is fast, simple, and free!
Compatible with ASP.NET & Java web applications.
1. No credit card required
2. Installs in a few minutes
3. Learn how to improve your application!
Retrace is SaaS-based and affordable for pre-prod and production servers.
Monitor ISS to improve your apps, quicker!
All of these are monitored by default as part of Retrace's application metric monitoring. 
System/Process Counters
CPU %: The overall server and CPU usage for your IIS Worker Process should be monitored.

Memory: You should consider tracking the currently used and available memory for your IIS Worker Process.
IIS Performance Counters
Web Service – Bytes Received/Sec: Helpful to track to identify potential spikes in traffic.

Web Service – Bytes Sent/Sec: Helpful to track to identify potential spikes in traffic.

Web Service – Current Connections: Through experience with your app you can identify what is a normal value for this.
ASP.NET Performance Counters
ASP.NET Applications – Requests/Sec: You should track how many requests are handled by both IIS and ASP.NET. Some requests, like static files, could only be processed by IIS and never touch ASP.NET.

ASP.NET Applications – Requests in Application Queue: If this number is high, your server may not be able to handle requests fast enough.

.NET CLR Memory – % Time in GC: If your app spends more than 5% of its time in garbage collection, you may want to review how object allocations are performed.
ASP.NET Error Rate Counters
.NET CLR Exceptions – # of Exceps Thrown: This counter allows you track all .NET exceptions that are thrown even if they are handled and thrown away. A very high rate of exceptions can cause hidden performance problems.

ASP.NET Applications – Errors Unhandled During Execution/sec: The number of unhandled exceptions that may have impacted your users.

ASP.NET Applications – Errors Total/Sec: Number of errors during compilations, pre-processing and execution. This may catch some types of errors that other Exception counts don't include.
Dev Teams Worldwide Love Stackify's Full Life Cycle Performance Power

Retrace has become an indispensable tool for nearly 3,000 users worldwide—but it's just a glimpse of the insights Stackify can provide.
Code-level performance tracking


Performance reporting & dashboards


Server & application metrics


Log searching & monitoring


Error tracking & monitoring


Alerts & notifications



Out of the box compatibility with ASP.NET  apps, as well as loads of third party libraries. When you tie Retrace to Prefix, you bridge critical gaps and cover the entire development life cycle.
Starting at only $10 a month!
"Until Stackify, there was no one tool to do monitoring, performance dashboards, log aggregation, APM and more. This same technology would come with half a dozen or more products and even more expense. Stackify provides all of this functionality out of the box, in one package, and provides you the actionable insights necessary to target problems when and where they happen."
Everything Dev Teams Need – A Fraction of the Cost
Compare Retrace prices to common APM and developer tools. See how much you can save!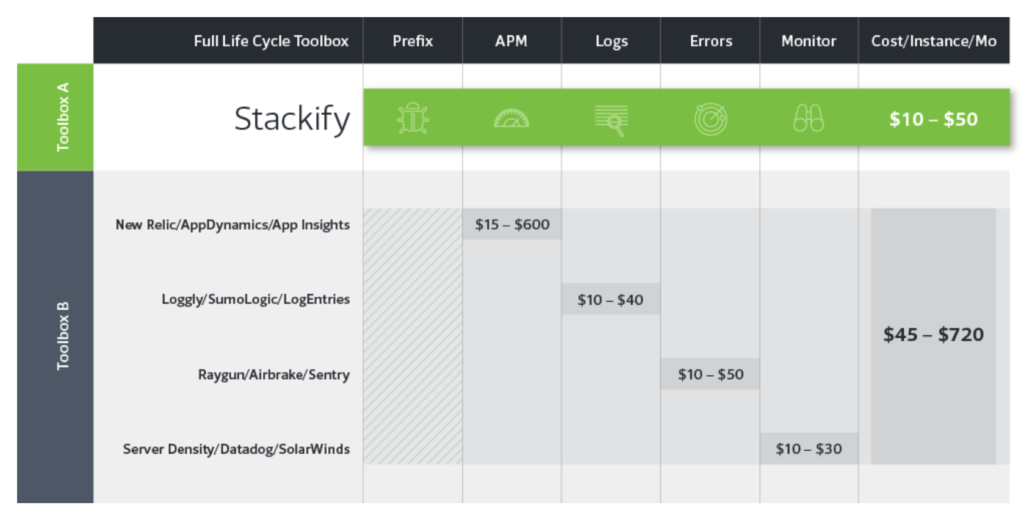 "I've spent most of my career as a consultant at major corporations. Some of my smaller clients have asked that I take on operational roles, but it felt like there was too much—until I found Stackify. Now I can see trouble spots and drill in. Instead of having to spend all my time finding the hotspot, I can now spend that time fixing the hotspot."
"I am using Stackify to monitor a multi-tier application in the cloud, and was amazed at the easy set-up with no extra configuration. Competitors seemed overly confusing, and costs would have exceeded our total hosting cost. Stackify was an easy choice. Honestly, we haven't experienced a single drawback."

[ GetApp + Capterra + G2 Crowd ]
Stickify works out of the box with your stack.