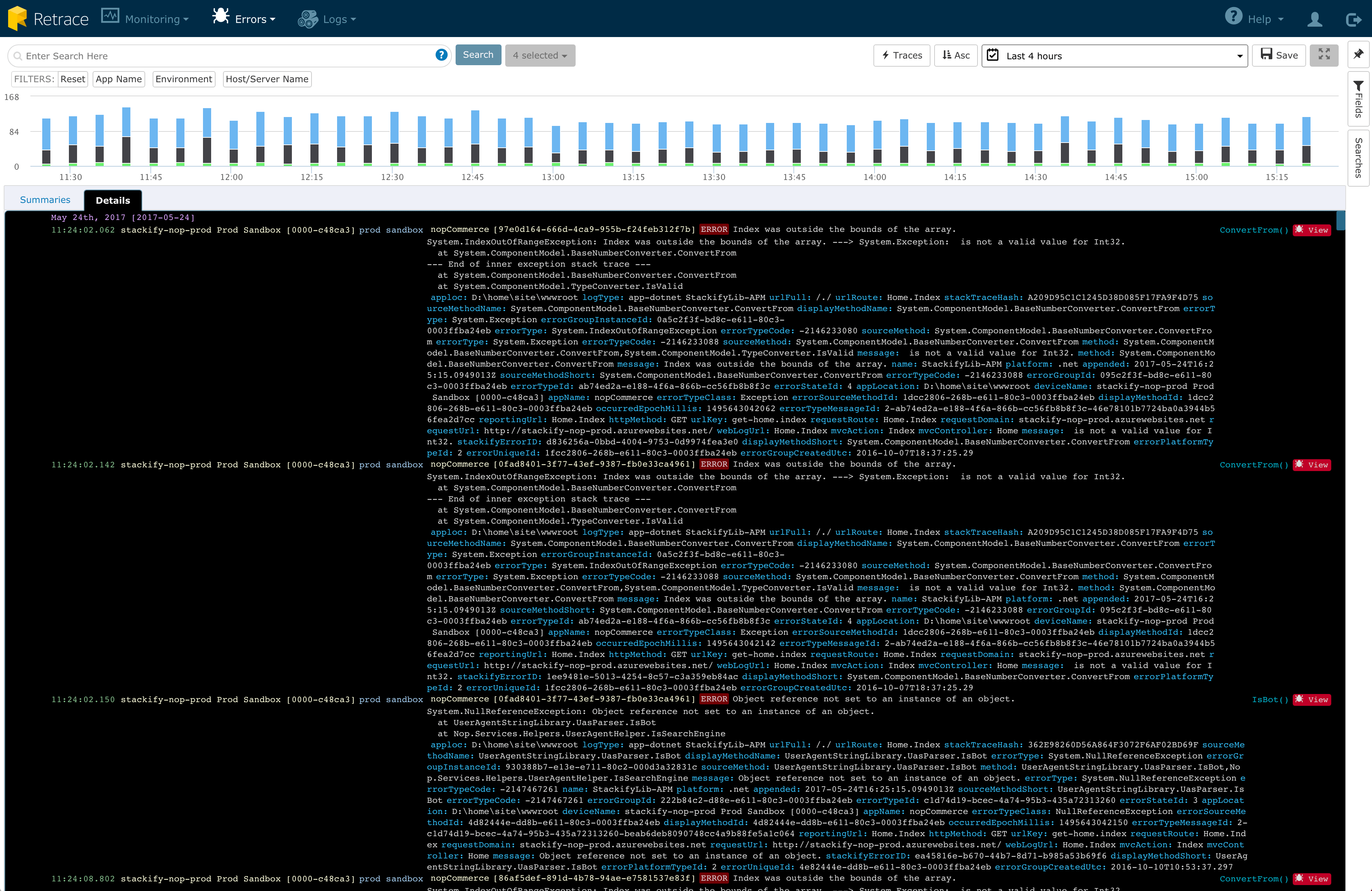 Retrace – Bug Tracking
Retrace what your code is doing to quickly find bugs and performance problems.
Retrace is a centralized bug and issue tracking solution that can archive the progress of your development cycle. Easy to install and use on QA/test and production servers., and ready to scale to accommodate your needs.
Key Features:
SaaS-based APM.

Single pane for code performance and metrics.

Integrated errors and logs.

Works with most common app stacks.

Shows deeper contextual information to help you quickly address bugs.
Cost: Free Trial; pricing starts at $10/month (pre-production) or $25/month (production)
Not sure where to start? Schedule a FREE live demo.
Fill out the form below to set up a live demo.
Getting Started with Retrace!
What our customers have to say

Joshua Boensch
Web Developer
Stevens Worldwide Van Lines
I immediately liked the interface and the ability to search logs was an awesome touch as well, but what hooked me was within 24 hours of installing Stackify we found an Exception that has existed since the launch of a new ad campaign we started 10 months ago. Most events/errors were trapped and reporting on this process because of its importance, but somehow this one thing wasn't. The error existed for approximately 10 months and we were never aware of it; IE, the competitor's product never barked about it. I immediately canceled my contract with the competitor and signed on with Stackify.

Retrace User
Application developer
Cerner Corporation
We were looking for a tool that will allow us to better understand what's going on with our cloud app, we were using Nagios for some pieces of the info some log aggregation tools and few other tools. Stackify integrated all these tools together making it easier for our team to find what we need to solve issues fast without the need to train on different tools. It does a great job at providing lots of useful information without it becoming overwhelming directing us to the relevant information needed at that point. All of the features are well thought out and it has proven very helpful at diagnosing and solving bugs in our application.