You may have a profiler, but do you have a Prefix?
Prefix isn't a standard code profiler. It displays details per web request so you can understand what your code is doing and how long it takes (i.e. "what did my code just do?").
Prefix has become an indispensable tool for nearly 20,000 developers worldwide—but it's just a glimpse of the insights Stackify can provide.
Download prefix for free!
Get more of the same great access and insights to your code's performance in pre-prod and production environments.
With Prefix you get:
-A killer lightweight code profiler. 

-Performance and usage insights of SQL queries, web service calls, caching, queuing, and much more!

-Hidden app error identification

-Log statements

-Client-side JavaScript performance
Learn more about Prefix Premium!
With Prefix Premium you also get:
[ LOCAL ]
-Trace and comparison views of app performance in remote environments like QA & production
-Smart suggestions to track any method in your code
+
[ REMOTE ]
-Code-level performance tracking
-Performance reporting & dashboards
-Server & application metrics
-Log searching & monitoring
-Error tracking & monitoring
-Alerts & notifications
-Out of the box compatibility with ASP.NET and Java apps, as well as loads of third party libraries. When you tie Retrace to Prefix, you bridge critical gaps and cover the entire development life cycle. 
Need help getting started with Prefix Premium?
Click here for our Prefix Premium support docs!
Immediate code insights.
Instant download.

Prefix provides an instant feedback loop to see what your .NET or Java web app is doing.
Find and fix bugs before they get to production = you're a god.
Download for FREE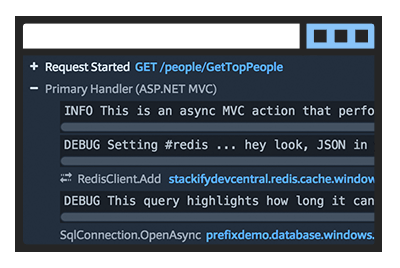 View your logs by request
Stop sorting through messy log files. See the exact log messages for a single web request.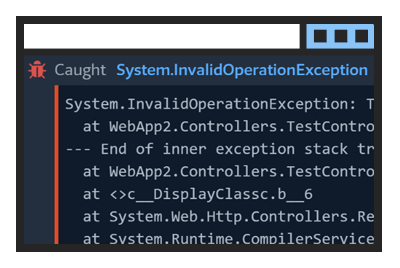 Find hidden exceptions
Prefix can instantly show you all the exceptions hidden in your code.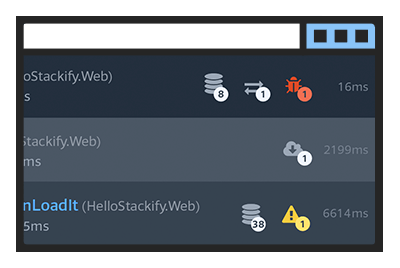 Quickly spot suspicious behaviors
People see things with Prefix they never expected. Why does that web request do 38 database calls?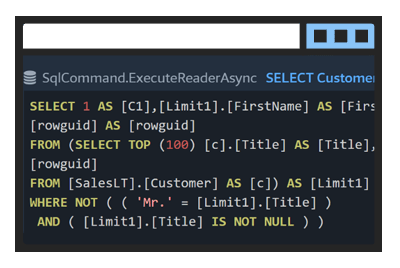 View SQL queries
Including SQL parameters, affected records and how long it took to download the result set.
"By far one of the best and easiest to use profiling tools I've ever used. Most of the other tools are either to hard to setup or don't give me what I want. Prefix shows me exactly what I need to see on one screen, exceptions, SQL queries from EF, load times. It has become a tool I use daily for software development."John Hadzima, Senior IT Consultant at Marathon Consulting
Prefix

: It's Lights Out for Bugs!