Netreo Names Sanjeev Mittal New GM of APM Solutions
| February 14, 2023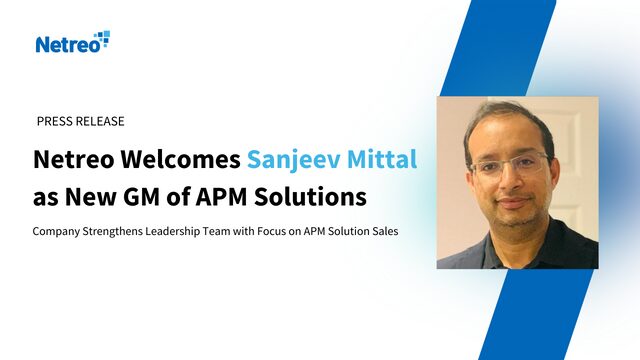 Company Strengthens Leadership Team with Focus on APM Solution Sales
Huntington Beach, Calif. – February 14, 2023 – Netreo, the award-winning provider of IT infrastructure monitoring and observability solutions and one of Inc. 5000's fastest growing companies, today announced the appointment of Sanjeev Mittal as GM, Application Performance Monitoring (APM) Solutions. Mittal takes immediate responsibility for the success of Netreo's APM business unit, reporting to both Netreo's Board and its CEO Jasmin Young.

A technology industry management consultant and executive leader for more than 25 years, Mittal brings extensive experience in go-to-market strategy, product development and consultative sales for business applications and technology solutions. As GM APM Solutions, Mittal will be shaping the strategy and direction of product development, sales and support for both Retrace by Netreo full lifecycle APM and Prefix by Netreo real-time code profiling.

"Sanjeev is the ideal candidate for leading our APM business unit into the next phase of product excellence and growth," said Netreo CEO Jasmin Young. "He brings to Netreo a customer-first mindset, unmatched expertise in business application sales and an entrepreneurial spirit that is energizing and infectious. We are delighted to have Sanjeev providing his leadership and skills to our APM team and Netreo."

"Netreo's Full-stack Monitoring and AIOps solutions address critical observability needs of enterprises with complex IT infrastructure. Its APM solutions enable IT organizations to shift-left and work closely with DevOps teams to enable highly reliable application performance," said Netreo's Board Chairman Sumit Garg. "We are excited about the leadership and experience that Sanjeev will bring to our APM solutions to better serve the needs of customers in this growing market."

Mittal previously served as the Principal Business Development Leader for Amazon Web Services, leveraging his cloud experience to help Software companies Build, Market and Sell with AWS. Before AWS, Mittal held a number of consulting and sales leadership roles at RedCompass, Oracle, A. T. Kearney and Nokia. He earned his MBA in Strategy and Finance from the London Business School and his Bachelor of Engineering, Computer Engineering with Distinction from the Delhi Institute of Technology.
About Netreo's APM Business Unit
The Retrace full lifecycle APM solution anchors Netreo's APM Business Unit, delivering robust APM capabilities combined with the top tools and capabilities that developers and IT team needs most to eliminate application bugs and performance issues before impacting users. Turning detailed application tracing, centralized logging, critical metrics monitoring and more into actionable insights, Retrace enhances troubleshooting and optimizes performance throughout the entire lifecycle of enterprise applications.
The developer's sidekick, Prefix real-time code profiling is a critical must-have tool for every developer that provides instant feedback on code performance while applications are being written, so application developers consistently and efficiently push fully optimized and error-free code into production. Providing instant feedback in interactive Summary Dashboards, Prefix expedites troubleshooting and issue resolution plus identifies areas in code that can be further optimized based on industry best practices.
About Netreo
Netreo's full-stack IT infrastructure management (ITIM), application performance monitoring (APM) and digital experience monitoring (DEM) solutions empower enterprise ITOps, developers and IT leaders with AIOps-driven observability, actionable insights, process automation and accelerated issue resolution. By having real-time intelligence on all resources, devices and applications deployed in cloud, on-premises and hybrid networks, Netreo's users have the confidence to deliver more reliable and innovative internal and external customer digital experiences. Netreo is available via subscription, and in on-premises and cloud deployment models. Netreo is one of Inc. 5000's fastest-growing companies and is trusted worldwide by thousands of private and public entities, managing half a billion resources per day.

Try Retrace and Prefix for free or connect with Stackify by Netreo on:
Twitter: https://twitter.com/Stackify
LinkedIn: https://www.linkedin.com/company/stackify/
Facebook: https://www.facebook.com/Stackify/
Request a demo of Netreo or connect with Netreo on:
Twitter: https://twitter.com/netreo
LinkedIn: https://www.linkedin.com/company/netreo
Facebook: https://www.facebook.com/netreo/

Media Contact:
Kyle Biniasz
Vice President of Marketing
[email protected]
(949) 769-5705