4 Differences Between DEM & RUM You Should Know
| April 25, 2023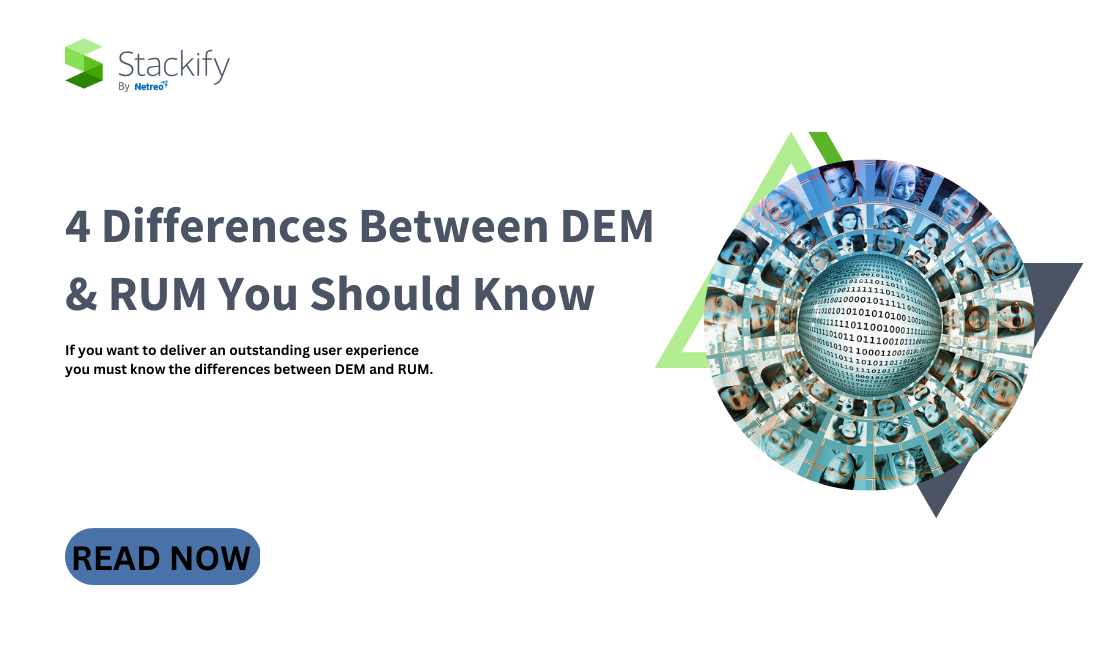 If you want to deliver an outstanding user experience you must know the differences between DEM and RUM.
In this modern world, businesses are embracing digitization to provide better services to their customers. However, customer expectations and preferences have changed drastically over time.
To address customer demands, businesses have started investing in systems and applications that enhance the user experience. Two such performance monitoring techniques are DEM (Digital Experience Monitoring) and RUM (Real User Monitoring).
Digital experience monitoring and real user monitoring are two different but complementary methodologies used to understand how users interact with a system and assess the customer feedback provided.
In this article, I will discuss the four key differences between the two methods, and why you should consider using one over the other for your next project.
What is Real User Monitoring?
Before you understand the differences between DEM and RUM, you should first understand DEM and RUM.
I'll begin with RUM.
Real User Monitoring or RUM is the practice of using data from the users of an application to understand and monitor the performance of the application.
So, how does RUM work?
It works by tracking various metrics, such as
DNS lookup time
Page load time
Time to first byte
Time to load specific elements
APDEX score, and more.
These are performance metrics that are collected by monitoring real user sessions across a variety of operating systems, browser versions, locations and end-user configurations.
There are many RUM tools available in the market—such as Sematext, Dynatrace, and AppDynamics—that could make the work a lot easier for you.
Gathering data from actual users allows software delivery teams to identify issues that negatively impact user experience and user satisfaction.
What is Digital Experience Monitoring?
DEM focuses on the measurement and management of user experience on different apps and devices. Its main goal is to optimize and improve a customer's journey when using your app or service.
The global DEM market is expected to reach $6.53 billion by 2031.
However, DEM is not the same as APM (Application Performance Monitoring). APM only monitors application performance while DEM is a much broader discipline that covers applications, devices, networks and more.
DEM monitors the user experience from the time they log in to an app to the time they close it on their devices. It enables companies to use customer management tools more efficiently to better understand user behavior and improve their services.
Many apps may have millions of users, especially social media apps like Facebook, Instagram and YouTube, which have tons of user content.
Monitoring so many users manually is not feasible, which is why businesses use AI to record and monitor many user interactions.
Most customers don't know what goes into keeping a website functioning and expect uninterrupted and smooth experience.
Let's say a customer is watching explainer videos on your website. They'll expect quality, consistency and uninterrupted viewing, and will probably leave if they don't.
DEM allows you to identify and mitigate issues that could impact user experience and subsequently the reputation of your brand.
DEM can also be used to monitor the performance of IoT devices to ensure ongoing functionality.
4 Key Differences Between DEM and RUM
DEM and RUM are two distinct approaches to assessing website performance. The former tracks the behaviors of simulated visitors, while the latter uses data gathered from actual user visits.
Although both DEM and RUM offer unique insights into different aspects of user experience, there are some key differences.
Here are four differences between DEM and RUM.
1. Focus
One of the major differences between DEM and RUM is their focus.
RUM has a narrow focus and concentrates more on identifying delays and disruptions with actual user sessions.
DEM, on the other hand, has a broader focus and tracks user experience across applications, devices and networks.
Let's take the example of videos on Thinkific, the best online course creation platform.
RUM monitors how customers interact with the Thinkific platform and the course video. In contrast, DEM examines user experience from a holistic perspective that encompasses both the digital elements and the physical environment of the platform.
Besides the platform, DEM monitors the device and the network that the users are using to visit Thinkific.
DEM ensures all digital assets are functioning correctly without interruption, whereas RUM focuses solely on capturing information from real users.
2. Data Collection
DEM collects data via synthetic agents that simulate user interactions on the website or app, while RUM utilizes actual users to capture performance data in real-time.
For instance, with DEM, developers can identify page load issues by generating synthetic traffic that behaves in an anticipated fashion. Conversely, RUM captures how real users actually interact with the site, providing a more complete picture of potential problems.
3. Behavior
DEM is proactive. It can detect potential issues before they affect end-users, allowing for prompt resolution.
Conversely, RUM is reactive, providing visibility into any pre-existing problems affecting user experience only after they have occurred.
DEM typically uses scripted scenarios to evaluate a user's journey through a website/app, while RUM depends on natural user behavior to analyze performance levels.
A key benefit of DEM is its immediacy—results appear nearly instantaneously, allowing for quick triaging and remediation of page-loading issues. On the other hand, RUM typically takes longer to interpret due to its reliance on live customer behavior.
DEM excels at proactively finding unexpected code errors or slowdowns without waiting for customers to complain, while RUM shines when it comes to providing deeper insights into user experience and engagement.
4. Usage
DEM is typically used to inform proactive development decisions, while RUM is leveraged most often to optimize existing customer journeys and maximize satisfaction.
Just like sales CRM software and automation tools eliminate repetitive manual tasks allowing sales teams to focus more on closing sales, DEM's automated analysis requires little human input. DEM, therefore, enables engineers to easily assess site health using predefined thresholds.
In contrast, RUM offers more flexibility but generally requires manual assessment to truly understand its results.
DEM helps teams test whether their applications, especially new applications, meet desired service levels before it's deployed in production. However, RUM cannot provide this level of visibility until after launch.
Conclusion
Now that you know the differences between DEM and RUM, what technique would you use?
I recommend using both of these to deliver an outstanding user experience helping you grow your business. So, go ahead and use these techniques to boost user experience on your apps. Good luck!