10 Best RUM Tools for Improving Your User Experience
| February 1, 2023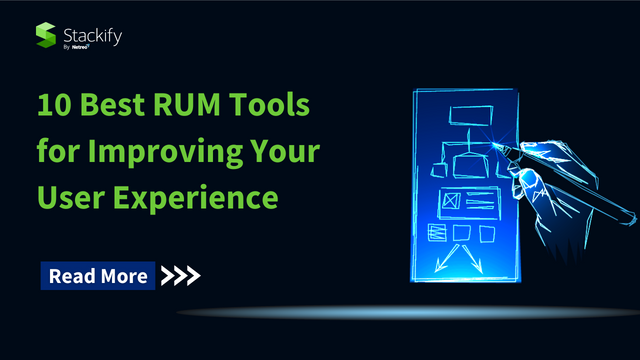 Having user-friendly programs is paramount for any software company's success. To gain a better understanding of your users' experience and enjoyment, it's vital that you learn how customers interact with your app or website. Real user monitoring (RUM) solutions enable your company to visualize how users interact with your software, helping you learn what works best for your customers so you can thrive against the competition.
Let's go over 10 of the best RUM tools for improving user experience.
There are many benefits of utilizing real user monitoring, and Retrace helps you get a complete picture of application performance. The tool provides extensive monitoring, helping optimize software performance from the code level to the network edge.
As a full-cycle AMP solution, Retrace boosts your understanding of real users' overall experience, correlating client-side traces with errors, logs and server-side metrics. Retrace delivers an intuitive experience with extensive insights into each user interaction, creating a better environment for user satisfaction. The tool helps speed up problem-solving capabilities and resolves bottlenecks for each application demand.
Features
Operates with Microsoft Azure and AWS
Supports .NET and Java for APM
Supports .NET, Java, Node, PHP, and Ruby for errors, logs, and monitoring
Supports .NET Core
Enhanced async pattern profiling for Windows Services and other non-web applications
Data collection
Sessionization of user visits
Transaction tracing
Custom metrics monitoring
Visit reporting
Reporting and segmentation
Comprehensive alerting
Price
Retrace offers a free 14-day trial, after which pricing starts at $99 per month. Check out how you can get started with Retrace RUM today!
Pros
Provides unified, full-stack monitoring
7-day trace retention
Easily go from viewing RUM metrics to detailed logs and traces
View the timing of each transaction
Optimize problem-solving, helping customers have smooth interactions
Graphs and charts to visualize customer experience and drill-down capabilities
Provides unified, full-stack monitoring
7-day trace retention
Easily go from viewing RUM metrics to detailed logs and traces
View the timing of each transaction
Optimize problem-solving, helping customers have smooth interactions
Graphs and charts to visualize customer experience and drill-down capabilities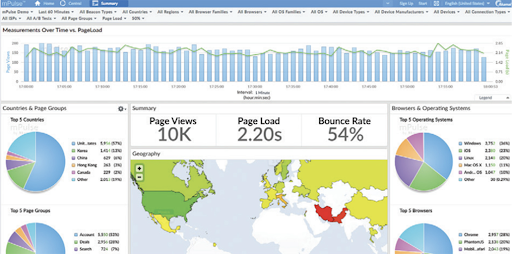 Akamai mPulse helps you understand the impact of performance and error issues on user experience with conversions or page views, allowing you to see performance errors and use data insights directly from the user's browser.
Features
Real-time user insights
Analyzes metrics sitewide
Distinguishes human traffic from bots
Real-time alerts
Third-party visibility
Price
The mPulse tool has a 30-day free trial and monthly pricing available upon request.
Pros
Single-page application support
Stores user insights for 13 months
Metrics include Google Core and Core Web Vitals
Cons
Not as user-friendly and intuitive as other tools
Can be slow
No support error tracking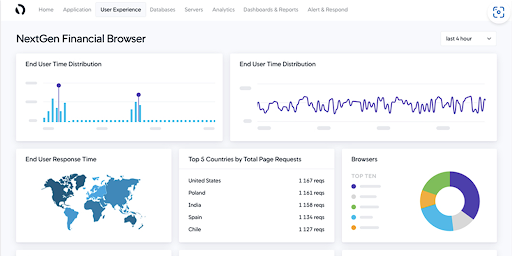 AppDynamics tracks visitor journeys and provides insights into their interactions with your website or application. Self-learning algorithms use the app's behavior to form web metrics with automatic error detection and resolution.
Features
Segmented session data related to location, device, and more
Experience Journey Map lets you see how users interact with browser-based applications
Helps reduce MTTR with real-time data from user interactions
Price
AppDynamics offers a free 15-day trial and starts at $0.06 per month per 1,000 tokens.
Pros
Self-learning platform
Free training
Cons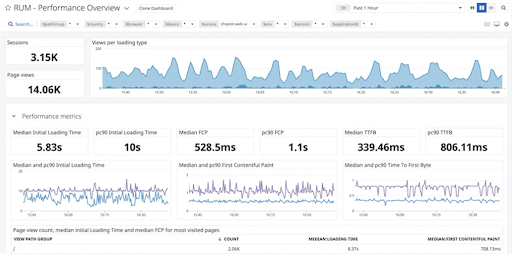 Datadog Real User Monitoring gives you comprehensive visibility into individual user activity in real time. This tool allows you to monitor all aspects of user journeys on your application or website, tracking performance during the durations, pages visited, resources loaded, and more.
Features
Triage issues with end-to-end view of user experience
Capture critical user actions like checkout button click and more
Collect and correlate user action during a user's session
Visualize user experience with time series, top lists, and tables
Price
Datadog offers a free option with Core Collection and Visualization features. The Pro version is $15 per month per host, and the Enterprise version is $23 per month per host.
Pros
Simple interface
Dependency mapping
Dashboard screen with helpful graphs
Cons
Navigations can be counterintuitive
Lack of thorough documentation in some areas
Finding the right metrics or dashboard is less intuitive than other platforms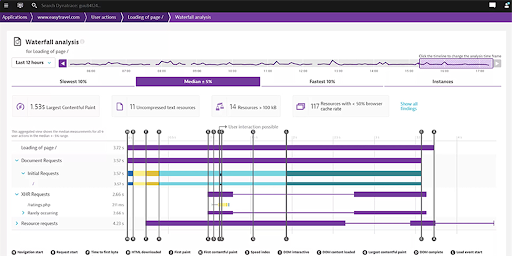 Dynatrace RUM provides complete instantaneous insight into the customer experience. You can track the activity of users on all mobile and web applications across all devices and browsers to improve customer experience.
Collect business-relevant metrics, allowing you to correlate performance issues with potential impacts on your business.
Features
Waterfall analysis gives insight into bytes downloaded, interactive time, network time, and UX time
View JavaScript error messages and know the user actions that triggered them, and view the stack traces
Capture full visibility of customer experience across every digital transaction
Replay individual customer sessions
Real-time, AI-based analysis
Pricing
Dynatrace offers a 15-day free trial, after which:
Full-stack monitoring starts at $74 per month
Infrastructure monitoring starts at $22 per month
Digital experience monitoring starts at $11 per month
Application security starts at $15, open ingestion starts at $25
Cloud automation starts at $0.10 per cloud automation unit
Pros
Intuitive, user-friendly dashboard
Interactive interfaces and visual reports for ROI tracking
Mobile monitoring breakdowns
Cons
Can be pricey
The user interface can be hard to grasp at first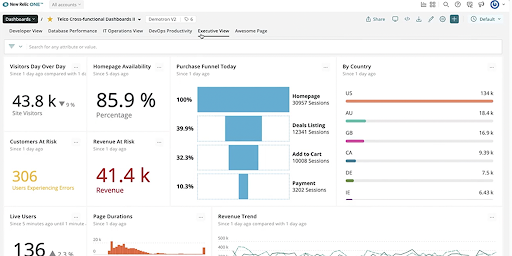 Correct frontend issues before they affect your business with New Relic's advanced RUM tool. This tool lets you view features from the user's perspective, allowing you to monitor sessions from the moment a user enters the app or website until they exit.
Features
Geographies can be filtered to measure user engagement by location and device
Compare source maps and stack traces to troubleshoot backend issues affecting end user
Individual session performance reports
Browser page views and page load times
View route changes in applications with SPA architecture
Price
New Relic offers a standard option with fewer features for free. Pro plan and Enterprise plan pricing are available upon request.
Pros
New Relic Edge with Infinite Tracing lets you observe 100% of your distributed traces
Cons
Many features are available for Pro accounts only
Lack of detailed HTTP metrics
Reports are not as comprehensive as other tools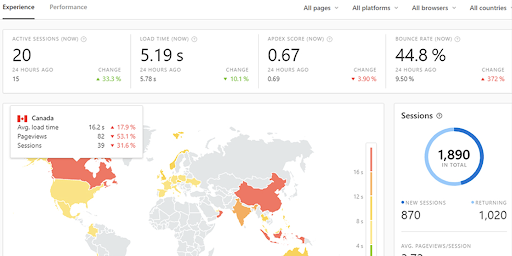 Pingdom combines uptime, transaction, and real user monitoring. This tool helps you analyze data for specific users and gain better insight into regional performance, monitoring millions of pageviews without jeopardizing data.
Features
Visualize geographic hot spots with live mapping
Gain insights into user behaviors
Advanced filtering gives granular visibility
Easy to share user insight reports
Set performance levels of user experience and measure metrics like Apdex score
Analyze load time or first byte
Price
Pingdom offers a 30-day free trial. Their RUM tool starts at $10 per month.
Pros
Synthetic and end-user monitoring
Notifications to multiple destinations with text messages and email
Cons
Custom options can be expensive
Not the most user-friendly
Has a difficult interface that requires a sharp learning curve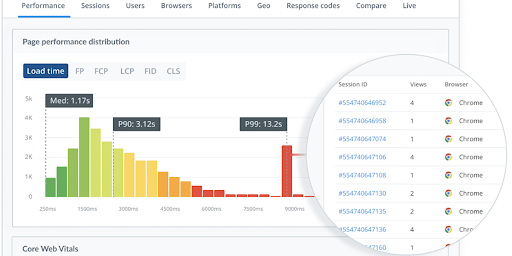 Raygun's RUM tool allows you to view visitor interactions and solve performance bottlenecks with easy detection and diagnosis. Assess real-time data from user sessions and suggest improvements for a flawless experience.
Features
Surface real-user insights
Language support for JavaScript, Angular, Xamarin, React, iOS, and Android
Get waterfall breakdowns of load times
See individual user sessions
Filter and compare data for greater control and granularity
Price
Raygun offers a 14-day free trial and starts at $80 per month.
Pros
Straightforward and easy interface
Can be integrated with Slack
Easy to set up
Cons
No log management solution to bring RUM and log management together under one roof
Sematext Experience offers accurate insights into aspects of websites and apps that influence user experience.
This RUM tool was created so DevOps and BizOps can collaborate to receive in-depth data to ensure customer satisfaction. Individual session insights at the page level allow users to better understand the customer experience.
With Sematext Experience, you can set up alerts for script errors, page load time, and Apdex score, and receive notifications anytime an error is detected.
Features
See composite frontend performance metrics or dissect by country, device, and more
Web application monitoring for all fired HTTP requests
Track individual user session performance
Set up alerts for Apdex score and page load times
Review page load events as they are recorded and displayed on charts
Price
Try a 14-day free trial before starting at $9 per month, or you can get the standard option for $19 per month or Pro version for $89 per month.
Pros
Easy installation
Sematext Cloud offers metrics, logs, and user end monitoring all in one location
Supports popular frontend frameworks like React, Ember, and Angular
URL grouping for HTTP requests and page-load events
Cons
Data can occasionally be delayed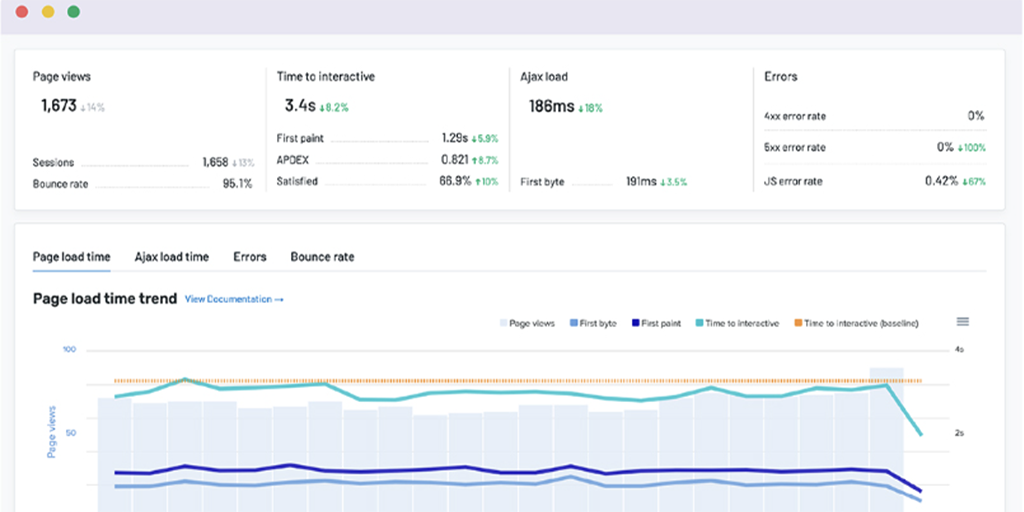 While synthetic monitoring can be used to launch automated custom tests for your website or web services, this real user monitoring gives you statistics on events that occur daily during live operations.
Uptime's RUM tool uses industry Apdex standards to report response times and improve frontend performance while filtering user agents and bots from interfering with user metrics. Diagnose website speed issues and evaluate and discover the cause of errors before they become a problem.
Features
Track page load time trends
Filter user agents and bots that inflate user metrics
Correlate changes in bounce rates with peak load times
Monitor real users
Pricing
Uptime.com offers a Starter Plan for $20 per month, an Essential version for $67 per month, a Premium version for $379 per month and a Custom for $699 per month.
Pros
Easy-to-use dashboard
Console can be accessed through any standard web browser
Shows live reports via graphs
Can be integrated easily with other monitoring tools
Cons
Relatively expensive
Graphs could be more detailed
Why Do You Need a RUM Tool?
Running a business on the internet is filled with risk. Having an arsenal of tools at your disposal will help your business thrive and give you an edge over the competition. In addition to critical cybersecurity tools like vulnerability and penetration testing tools, real user monitoring can help you understand how a user is enjoying your software and give you peace of mind when it comes to combating errors and keeping track of important metrics.