Retrace Wins Application Performance Management (APM) Gold Medal from SoftwareReviews
| July 22, 2021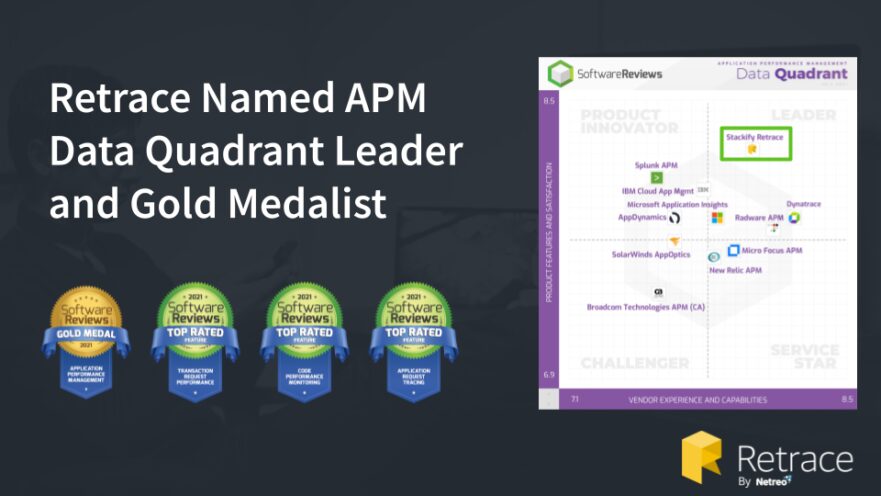 Overcoming adversity is the mark of an Olympic champion, and Retrace may have earned the toughest Gold Medal to date in 2021. SoftwareReviews named Retrace the Top Application Performance Management solution, surpassing highly established product offerings from competitors 50 to 1,000 times larger in staff and revenues!
While technically 1 of 3 Gold Medal recipients, Retrace ranked #1 in overall score as voted by end-users in SoftwareReview's 2021 Application Performance Management Data Quadrant Awards – a comprehensive survey and head-to-head comparison of product features, vendor capabilities and vendor/client relationships. The aggregate results provide a powerful indicator of overall user satisfaction by measuring the emotional ratings of user interactions with service, negotiation, product impact, conflict resolution, strategy and innovation, along with product features.
"Created for developers by developers, Retrace provides precisely what is needed for ensuring a great user experience, the primary goal of all enterprise application development," said Matt Waston, Netreo CTO and Retrace creator. "Retrace delivers the ideal toolset every developer needs to positively impact business goals by consolidating primary APM functions with full transaction tracing, centralized logging, error tracking, real user monitoring and more."
SoftwareReviews is a division of Info-Tech Research Group, an IT research and advisory firm established in 1997. Backed by two decades of IT research and advisory experience, SoftwareReviews is a leading source of expertise and insight into the enterprise software landscape and client-vendor relationships. By collecting real data from IT and business professionals, the SoftwareReviews methodology produces detailed and authentic insights into the experience of evaluating and purchasing enterprise software.
Learn more at Softwarereviews.com