Netreo Disrupts the APM Market with New Retrace Consumption-Based Pricing that Delivers "APM for All"
| May 24, 2023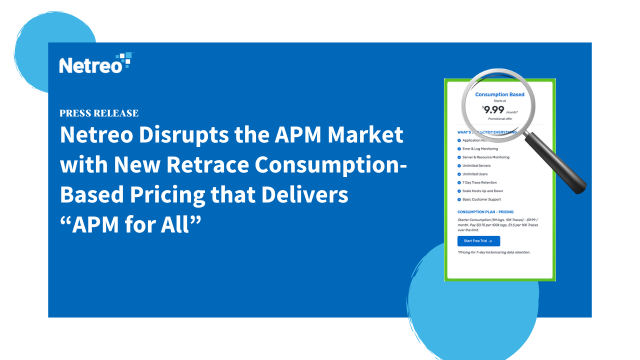 Full-Featured, Fully Supported Retrace APM, Errors & Log Management for $9.99/mo.
Huntington Beach, Calif. – May 24, 2023 – Netreo, the award-winning provider of IT infrastructure monitoring and observability solutions and one of Inc. 5000's fastest growing companies, today announced new, Retrace consumption-based pricing designed to deliver APM and ELM for All. Consumption-based pricing is designed to disrupt the market by enabling DevOps teams of all sizes to benefit from the full-featured Retrace application performance monitoring plus error and log management solution for only $9.99 per month (US dollars).
Currently, DevOps teams are forced to buy separate monitoring products or high-cost modules to get the same application performance, error and log management functionality offered by Retrace. Such go-to-market strategies from competitors effectively restrict purchasing to larger organizations that can afford the higher cost of piece part solutions. By removing pricing barriers and providing more functionality, Netreo is disrupting the market by enabling application developers, DevOps teams and companies of all sizes to benefit from the advantages of the integrated Retrace solution.
"All developers have the same goal of building high quality, high performing applications; and companies invest in multiple high-cost and often disconnected tools to ensure applications are defect free and optimized," said Netreo APM Business Unit General Manager, Sanjeev Mittal. "Retrace is already unique in the market by offering application performance monitoring, errors and log management and more in our core APM solution. By removing price barriers, Netreo is enabling DevOps teams to collaborate more effectively and create higher quality products, while reducing expensive licenses and infrastructure costs."
Starter consumption plans provide complete access to all Retrace functions without restrictive contracts. Customers pay monthly to get unlimited users complete resource and server monitoring for an unlimited number of servers, plus seven-day data retention and technical support (during business hours).
About Retrace
The Retrace full lifecycle APM solution delivers robust APM capabilities combined with the top tools and capabilities that developers and IT team needs most to eliminate application bugs and performance issues before impacting users. Turning detailed application tracing, centralized logging, critical metrics monitoring and more into actionable insights, Retrace enhances troubleshooting and optimizes performance throughout the entire lifecycle of enterprise applications. Supporting a wide range of programming languages, frameworks and platforms, including .NET, Java, .NET Core, Node.js, PHP, Python and Ruby, Retrace enables developers and DevOps teams worldwide to improve their application management and provide a world-class experience to their customers.
About Netreo
Netreo's full-stack IT infrastructure management (ITIM), application performance monitoring (APM) and digital experience monitoring (DEM) solutions empower enterprise ITOps, developers and IT leaders with AIOps-driven observability, actionable insights, process automation and accelerated issue resolution. By having real-time intelligence on all resources, devices and applications deployed in cloud, on-premises and hybrid networks, Netreo's users have the confidence to deliver more reliable and innovative internal and external customer digital experiences. Netreo is available via subscription, and in on-premises and cloud deployment models. Netreo is one of Inc. 5000's fastest-growing companies and is trusted worldwide by thousands of private and public entities, managing half a billion resources per day.
Try Retrace and Prefix for free or connect with Stackify by Netreo on Twitter, LinkedIn and Facebook.
Request a demo of Netreo or connect with Netreo on Twitter, LinkedIn, and Facebook.
Media Contact:
Kyle Biniasz
Vice President of Marketing
(949) 769-5705