Top 6 Application Lifecycle Management (ALM) Tools To Make Your Life Easier
| January 5, 2018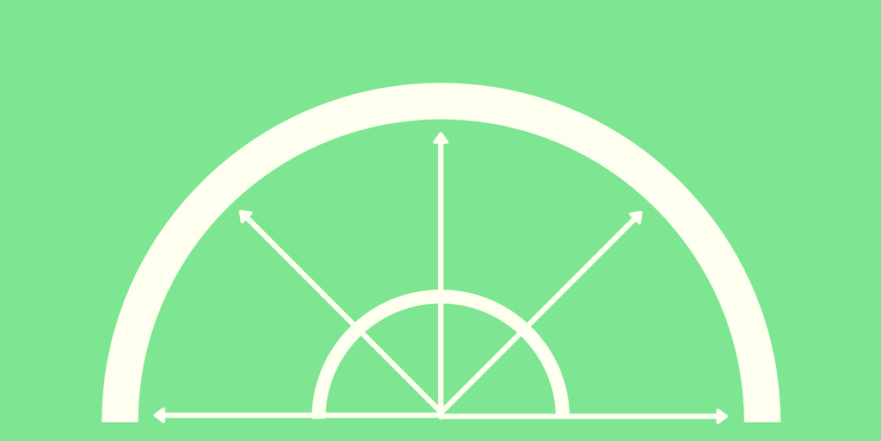 Due to the complexity of current day web applications, ALM, or Application Lifecycle Management, is important now more than ever. It's no longer just the coding and development stage that is crucial to an application's success. It's the initial Requirements (or Governance) stage, where teams decide what and how the application will be created and what problem it will seek to solve. It's also the final Operations stage, where teams constantly monitor and update the application for best optimization.
Errors occur and problems arise in all stages of an application's life. Teams need to be on the same page at all times and ready to act within seconds of a complication.
This is where ALM tools come in. They provide a platform for developers and their teams to work cohesively together through all three stages on an application's lifecycle – from conception to termination.
Finding the right ALM tool can be difficult. There are countless options available in today's market, many of which only focus on one or two stages of the application lifecycle. Finding the right tool that encompasses all three stages (Planning, Development, Operations) can be the ultimate game changer for an application's life and make every team member's life exponentially easier.
Take a look at these 6 all-encompassing ALM tools going into 2018 and start working more efficiently today.
6 Application Lifecycle Management Tools
CodeBeamer is a fully-integrated and cohesive ALM platform built by the folks over at Intland Software. It covers every step of the application process including Requirements, Software & Hardware Development, QA & Test Management, and Release & DevOps. It provides enterprise-level agile scalability to ensure applications can grow as rapidly as you grow.
CodeBeamer lets you easily collaborate with a team of engineers, even if that team is 250 members large. Seamlessly export documents right from codeBeamer to Word or Excel for quick data analysis or presentations. Intland Software is also known for their fantastic customer service, which is crucial in the fast-moving world of ALM.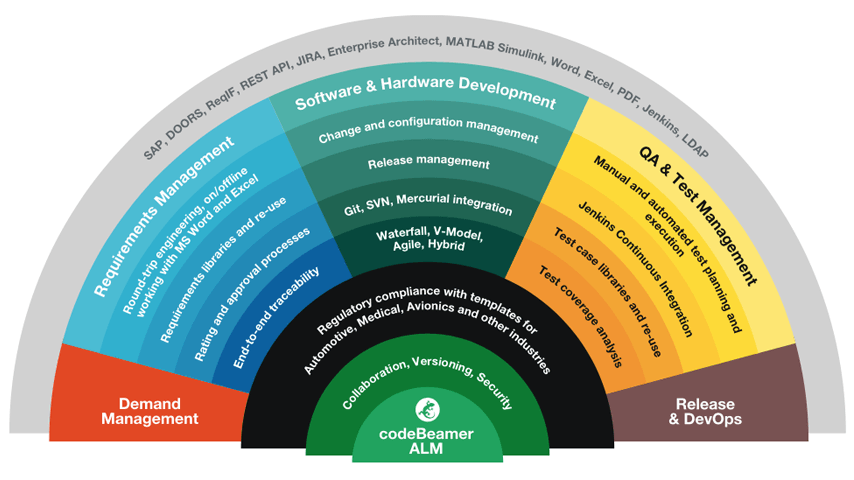 Koviar ALM Studio provides a full and complete ALM tool taking you from early-stage Requirements to Release and DevOps. What separates Kovair from other ALM tools is its ability to integrate with over 70 other ALM and IT tools from vendors and open source providers. Kovair is also a 100% web-based solution, which means no software downloads and makes for a much easier customer support system. Real-time notifications help keep you on top of every stage of the process.
SwiftALM is a full enterprise-style ALM tool with plenty to be excited about. Trusted by top brands, including Amazon and Hewlett Packard Enterprises, and awarded "The Most Innovated ALM Solution Provider" by Digité. SwiftALM integrated Process Governance support for agile, waterfall and a variety of other processes. The SwiftALM mobile app lets you get the same home page experience and capabilities directly on your phone or tablet to stay up-to-date even on the go. While SwiftALM is not exclusive to large enterprise solutions, it certainly has found its niche there. It supports over a thousand users on one team, if necessary.
Software company Perforce is responsible for the Helix ALM Suite, which includes tools for Requirements Management, Issue Management Software, Test Case Management, and Integrated Source Code Management. Downloaded as a suite, Helix ALM is a single application that allows for a simple and easy management process from start to finish. Helix is completely customizable, whether you're working in agile, waterfall, DevOps, or somewhere in between.
Helix also allows you to only license the modules, or purchase the tools, that you currently need. Say, for example, you only want to focus on Requirements Management and Issue Management, you only need to employ those modules. This simplifies the process by eliminating unnecessary pages and options.
Need to bring in a new tool? Simply add it to your package and it automatically integrates. The data analysis provided by Helix empowers developers to make the most accurate and efficient changes when problems arise without bogging you down in the semantics. Export data to Microsoft Office or other third-party platforms for easy analysis.
Brought to us by the trusted brand Siemens, Polarion ALM is full enterprise- level ALM software built to connect teams and people to improve the application development process. Polarion makes new projects incredibly easy by providing the ability to reuse or branch your data (or code) for similar projects or product lines. Collaboration is also incredibly user friendly through Polarion. Securely share data and set user permissions. While you can do most ALM functions through the Polarion ALM software, Siemens does offer two upgradable packages for even morein-depthh functions and higher level strategizing.
Backed by WalmartLabs, OneOps aims to be the most comprehensive open-source ALM product available… and they certainly do a good job. OneOps is all about the cloud. They allow developers to develop and launch new products, forklift legacy applications to the cloud, and maintain them throughout their entire lifecycle.
OneOps also enables developers to run their products in hybrid, multi-cloud environments. Essentially, this means developers can test and switch between different cloud platforms without being locked into just one provider. OneOps automatically scales, which allows you to run a completed app on auto-pilot and focus on other tasks.
Honorable Mention: Retrace
Retrace, by Stackify, is a little different than the other ALM tools listed. Retrace falls into the category of Application Performance Monitoring (APM), which is one aspect of Application Lifecycle Management. While it doesn't manage every aspect of your application, it gives performance monitoring and error tracking a big boost. Combined with Axosoft, Retrace can be a powerful tool for completing different stages of the development process.
Every ALM tool has its value and finding the right fit for you is just step one. Once you've decided on your ALM tool, customize it to your application's needs. Be sure to give every step — Planning, Development, and Operations — the proper time up front and run from there.
If you're working in agile, consider combining Retrace and Axosoft together for a cohesive Application Performance Monitoring and Agile Project Management combination.