The Top 21 Cloud Monitoring Tools for 2018
| November 20, 2017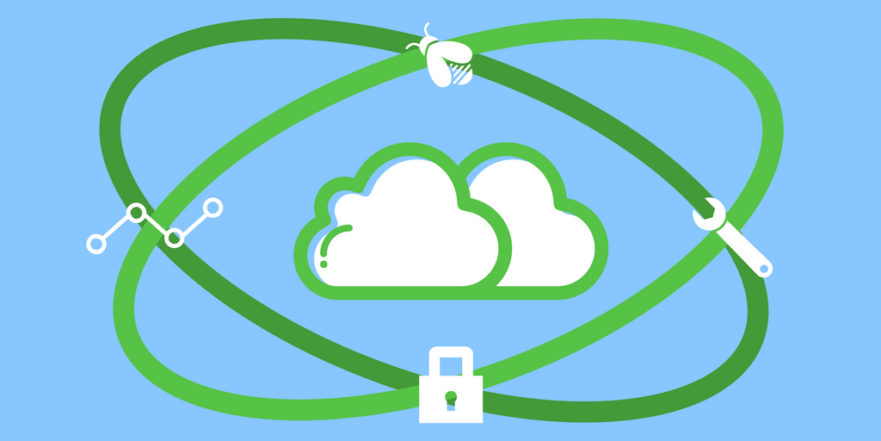 Let's do a visualization exercise. Imagine it's December 31, 2018, and you're ringing in the New Year with your friends and family. You think back on everything that you accomplished in the last year: your company's revenue is through the roof thanks to the success of your product, and you were promoted to Lead Developer. 2019 is poised to be an even bigger year for your company because you have the tools and insight to scale as quickly as demand requires. You're a happy human, and it's not just because of the bubbly in your glass.
Now how does one turn this visualization into reality? You start by setting yourself up with the right technology to succeed. Behind every great cloud app is a fleet of powerful cloud monitoring tools that provide insight and direction for improving your product. This is the ticket for turning 2018 into the year of your dreams.
Cloud monitoring is a broad category that includes web and cloud applications, infrastructure, networks, platform, application, and microservices. Some cloud monitoring tools do it all, from managing your cloud capacity to tracking your website speed. Other tools are more specialized, helping you track one vital component of your stack at a time.
You should determine the right set of tools by first looking at your needs and budget. If you're happy with the out-of-box monitoring tools from your cloud provider, then maybe you just want a product that helps you monitor application performance. Or maybe you're ready to upgrade to an enterprise-level monitoring solution. Whatever your needs, we have you covered with the following list.
We've compiled the top cloud monitoring tools for 2018. Some are full-stack enterprise solutions, and others are specialized tools for companies of all sizes. We tagged each tool to help you quickly find the product you need.
Enterprise
SMB (Small/Medium Size Business)
APM (Application Performance Monitoring)
SaaS (Monitoring tools like Office365 and Salesforce)
Infrastructure (Cloud, Virtual, and Physical)
Network
Platform
Microservices
Security
Microsoft (Specialized)
Google (Specialized)
Amazon (Specialized)
Be sure to shop around before deciding on a cloud monitoring tool. Many of these services offer free trials and easy installation, so you can quickly test to see if it is right for you. When you do commit, do so wholeheartedly and get the most out of product. After all, tools are only as good as those who use them.
I'm ready for some champagne and a promotion. How about you? Begin your investigation below for the top cloud monitoring tools for 2018.
Cloud Monitoring Tools for 2018
Running your web apps on Azure? Look no further than the suite of cloud monitoring tools from Microsoft. Microsoft gives you a full picture of your web app's performance by providing log analysis, application monitoring, and security alerts. The best part is that these tools are built into Azure, so you don't have to install any new software. Microsoft Cloud Monitoring is perfect for companies who want a simple solution for monitoring their Microsoft stack.
Tags
Enterprise, SMB, APM, SaaS, Infrastructure, Network, Platform, Microservices, Security, Microsoft
Exoprise helps businesses stay on top of their cloud apps, specifically Office 365, Skype, Slack, Yammer, Salesforce, and Box. They will monitor your entire Microsoft suite, troubleshoot, detect outages, and make sure your apps are up to SLA compliance. If you need a tool for tracking your cloud tools, ExoPrise might be right for you.
Tags
Enterprise, APM, SaaS, Network, Microsoft
CA Technologies is an enterprise-level, full-stack monitoring and management solution for businesses with public, private, or hybrid clouds. They have tools to help you do everything from monitor user experiences on your web app, to securing and scaling your operations. If you're a big business looking for a trusted partner in cloud monitoring, check out CA.
Tags
Enterprise, APM, SaaS, Infrastructure, Network, Platform, Microservices, Security
Retrace is an Application Performance Monitoring (APM) tool for apps built in .Net and Java. It combines app performance metrics, errors, logs, and monitoring all into one tool. Retrace is perfect for developers who want code-level insight into how their apps are performing. The affordable price point also makes it accessible to small and medium-sized businesses.
Tags
SMB, APM, SaaS, Microsoft
Hyperic provides monitoring for infrastructure, both physical and virtual, as well as monitoring for your OS, middleware, and web apps. Its dashboards and reporting features help ensure that you stay SLA-compliant and that you keep the right people in the loop. It's backed by one of the leading server virtualization companies in VMware, which in turn is owned by Dell.
Tags
Enterprise, APM, Infrastructure, Platform, Microservices, Security
AppNeta is a SaaS app and network monitoring tool that works across cloud platforms. AppNeta's Performance Manager gives you insight into resource usage, app delivery, and user experience. In 2017 it was given the highest rating for Network Performance Monitoring tools by Gartner.
Tags
Enterprise, SMB, APM, SaaS, Infrastructure, Network
Rackspace Monitoring is an enterprise-grade monitoring tool for Rackspace OpenStack Cloud users. It offers comprehensive visibility, powerful event processing, and flexible notifications, all in an easy-to-setup package. Rackspace Cloud Monitoring comes free with an Openstack cloud account.
Tags
Enterprise, APM, Infrastructure, Network, Platform, Microservices, Security
TrueSsight Pulse from BMC utilizes AIOps technology to monitor your web apps, ensuring a high-quality experience for your end-user. TrueSight integrates with Amazon CloudWatch and Azure Monitoring so you can better visualize data and set additional notifications. Its simple, single-line command line install makes it perfect for Azure and AWS developers who want better data visualization, fast.
Tags
Enterprise, APM, Platform, Microsoft, Amazon
SolarWinds has a tool called Virtualization Manager that makes predictive recommendations to improve the performance of your virtual environment. If you manage virtual infrastructure, you want to check this out. Virtualization Manager also helps with capacity planning and alerts you when things go wrong.
Tags
Enterprise, SMB, APM, SaaS, Infrastructure, Network, Platform, Microservices, Security
Amazon CloudWatch is a must-use tool if you're on AWS. CloudWatch lets you monitor application metrics, log files, and quickly react to changes in your AWS resources. The best part is you don't need to install any additional software.
Tags
Enterprise, SMB, Platform, Security, Amazon
Redgate
Do you use SQL Server, .NET, or Azure? If so, Redgate is the perfect monitoring tool for you. Redgate specializes in these three areas, providing tons of services to help you make better apps. From SQL Monitor, to .NET Profilers, to their Azure migration services, they are a one-stop shop for Microsoft stacks.
Tags
Enterprise, SMB, Platform, Microsoft
AppRiver helps you monitor and maintain your web apps, specifically Office 365 and email services. AppRiver provides security, web protection, spam guards, and email encryption so your information is safe. AppRiver is perfect for companies who want to keep their communication web apps up-and-running without hassle.
Tags
Enterprise, SaaS, Security
PagerDuty is an incident reporting and management tool that helps enterprise teams stay on top of cloud maintenance. It integrates with all of your favorite tools, so you're constantly updated on your stack performance. PagerDuty is perfect for enterprise DevOps and IT teams who want to automate incident resolution and get their software running faster.
Tags
Enterprise, Infrastructure, Network, Platform
LogicMonitor is an enterprise IT solution that helps businesses monitor their entire stack of infrastructure, apps, and tools. They were named the Best Network Monitoring Tool in 2016 and 2017 by PC magazine.
Tags
Enterprise, APM, SaaS, Infrastructure, Network, Platform, Microservices, Security
Unigma is a management and monitoring tool for public clouds like AWS, Azure, Google Cloud, and Office 365. It provides simple, beautiful dashboards and automated reporting so you can stay on top of your cloud performance. Unigma also helps you optimize your cloud costs and manage your billing if you're a reseller.
Tags
Enterprise, SMB, SaaS, Platform
Prometheus is an open source tool used primarily for Docker monitoring. It allows you to slice and dice data into a number of different dimensions using its powerful query language. Then visualize that data with its built-in expression browser. If you're a Docker-using, open source junkie, you will absolutely love Prometheus.
Tags
Enterprise, SMB, Microservices
Riverbed created a series of tools designed to help businesses monitor and manage their networks and SaaS applications. They are an enterprise-level solution that can handle your entire cloud stack.
Tags
Enterprise, APM, Infrastructure, Network, Platform, Microservices, Security
Google Stackdriver provides monitoring, logging, and logistics for apps on both Google Cloud and AWS. It provides full-stack insights and lets you aggregate all data across cloud platforms. Not surprisingly, it also comes with native integration into Google cloud products.
Tags
Enterprise, SMB, APM, SaaS, Platform, Security, Google, Amazon
Learning More about Cloud Monitoring
Want to learn more about cloud monitoring before choosing a tool? Here are a few resources to get you started: