How to Choose the Best Low-Code Platform For Your Dev Team
| November 8, 2017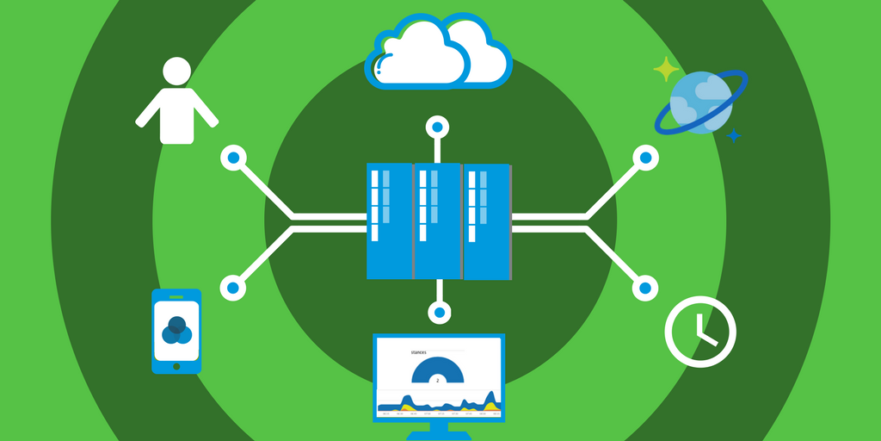 As late as June 2015, Alere (recently acquired by Abbott) still used Microsoft Excel spreadsheets to track their internal audits and enterprise risk management.
It's hard to believe that the world-renowned pharmaceutical and medical device company, who was featured in the classic business book Good to Great, relied on such a clunky system for such an important business process.
When the Director of Audit and Analytics finally decided the company needed a custom solution, they first looked into building an application from scratch. She quickly ruled out this option as too expensive, complex, and slow. Abbott needed something that could evolve over time and would not take an entire team of developers to maintain.
That's when Abbott found Onspring.
Onspring is a low-code development platform that helps a business build custom applications for a fraction of the time and money. Onspring specializes in audit and government compliance needs, but you can build practically any type of app on the platform. It was just the thing Abbott was looking for.
Abbott created a new system that managed their internal audit and enterprise risk. Thanks to Onspring, the app is always updated with the latest technology. Abbott can make changes to the app in just a few hours, compared to a few weeks if the app was built by hand. Now Abbott has an internal audit system as innovative and effective as the healthcare products they create.
Benefits of Low-Code Development Platforms
If you need to put up a landing page these days, you're unlikely to build an entire website from scratch. You'll probably use a platform like WordPress, Webflow, or Squarespace that offers WYSIWYG (What You See is What You Get) editors for easy drag-and-drop design. All the coding has been done for you; just choose your layout, features, and color scheme.
Low-code development platforms follow the same idea: They make it easy to build business apps without the expense and time commitment of hand-coding. They offer visual development tools and app plugins to design the app exactly how you like.
"We want to empower business users to automate processes, capture information, and do live reporting without having to engage technical resources," said Sarah Nord of Onspring. "It can be used for almost any business process that you want to manage."
But low-code platforms are more than just a cheap substitute for small businesses and technical laymen. They offer huge benefits to enterprises and tech-savvy businesses as well. Just because you can build a custom app from scratch, doesn't mean you always should.
"Many large enterprises are learning that building a custom app is not that sustainable," said Nord, "They build it, but then the team that developed it gets laid off. Then the company has this beast of an app and they don't know how to update it. It becomes antiquated. It doesn't meet their needs anymore. It becomes unwieldy."
Low-code platforms remove the cost and complexity of building custom apps. Both startups and enterprises can benefit from using such a platform, but where does one start?
As the low-code platform industry grows, business leaders today have more options than ever. There are a few things to consider when choosing a low-code development platform, and not all platforms are created equal.
Choosing a Low-Code Development Platform
While many platforms call themselves "low-code", there's actually a wide range of service offerings. Some platforms tailor themselves to enterprise customers, with deeper capabilities and higher price tags. Others keep themselves lean for small/medium-sized businesses and startups. They offer much of the same capabilities but with a flexible cost structure.
Then there are platforms designed for professional developers to increase their productivity. These true "low-code" platforms have rich customization options and require at least some programming knowledge. Other platforms are geared towards "citizen developers", or "business developers". These platforms rely more heavily on visual development tools and aren't as customizable.
Finally, there are different platforms for different types of apps. Some platforms are mobile-first, while others are best suited for web apps. Other platforms, like Onspring, specialize in a particular industry or business function.
Now you might be asking yourself, "I'm a small business without technical skills who needs a mobile app. Which platform should I use?"
I'm glad you asked.
We identified the best low-code development platforms for every possible scenario. For the sake of helping the most readers possible, we don't explore specific industry niches.
To inform our decisions, we used research from Forrester, who publishes quarterly reports about the low-code platform industry.
Use the decision tree to find the perfect low-code platform for your needs. We highlight some of their key features in the subsequent list.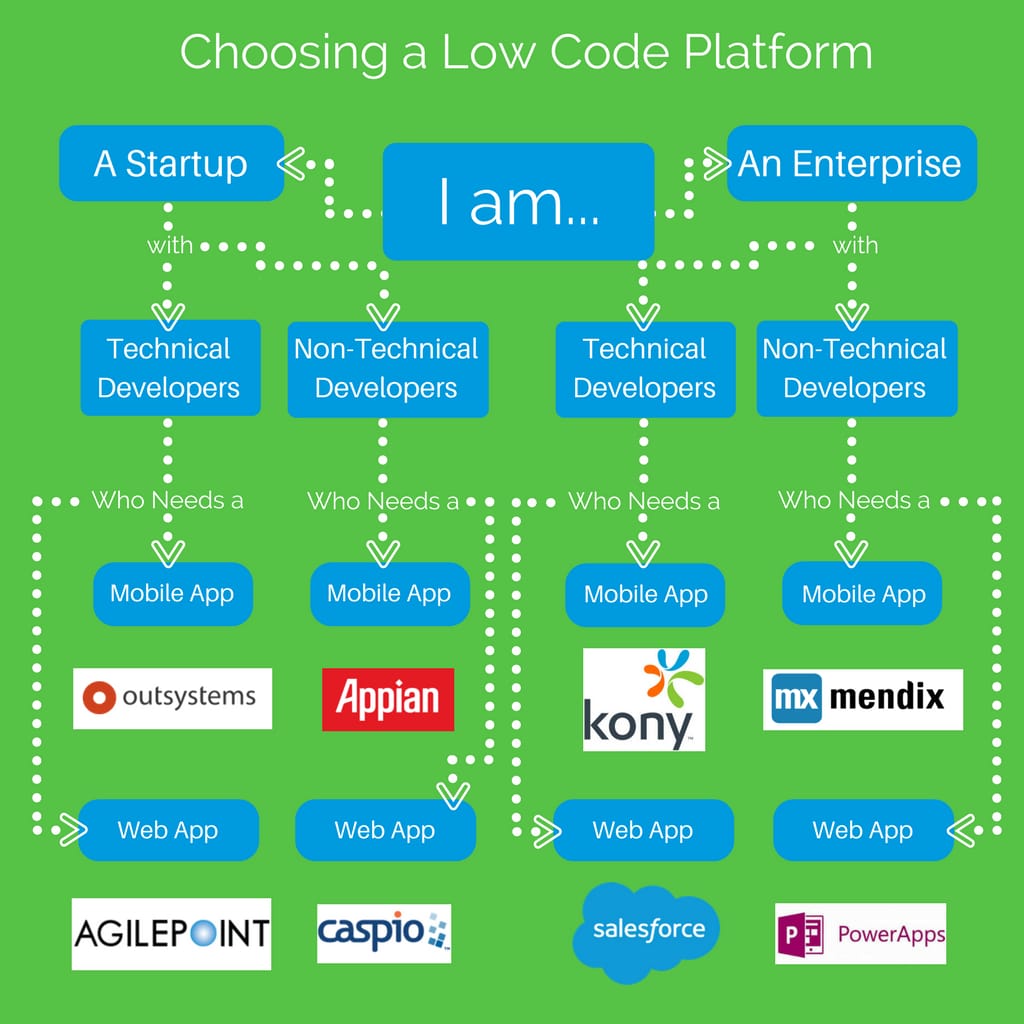 Leading Low-Code Development Platforms
I am a Startup with Technical Developers Who Needs a Web App
AgilePoint integrates seamlessly with Salesforce and Microsoft products, helping you bring order to these huge systems. AgilePoint also offers some of the best pricing in the industry.
I am a Startup with Non-Technical Developers Who Needs a Web App
Caspio is a completely no-code solution that offers excellent pricing for small businesses. Plans start at $59/month for unlimited users, which is practically unheard of in the SaaS world.
I am a Startup with Technical Developers Who Needs a Mobile App
OutSystems is a leader in the low-code platform industry and is a great option for just about everyone. You can build an app for up to 100 users for free, making it a good choice for small businesses just getting started. OutSystems is also a great for enterprises.
I am a Startup with Non-Technical Developers Who Needs a Mobile App
Another leader in the industry, Appian is a low-code platform with great visual development tools and reasonable pricing per user.
I am an Enterprise with Technical Developers Who Needs a Web App
Salesforce is the 8000-pound gorilla in the industry, with the largest app marketplace and most extensive set of tools.
I am an Enterprise with Non-Technical Skills Who Needs a Web App
Powerapps is incredibly easy to use and is backed by one of the world's best cloud platforms in Azure. As you might expect, it also integrates seamlessly with other Microsoft products like Sharepoint and Office 365.
I am an Enterprise with Technical Developers Who Needs a Mobile App
With it's powerful UX Visualizer, Kony makes it easy for enterprises to create custom apps. Because the design options are so deep, it's valuable to have pro developers working on it.
I am an Enterprise with Non-Technical Skills Who Needs a Mobile App
Mendix's Visual Development Platform makes app creation a walk in the park for non-technical developers. Mendix's transparent pricing plans are another plus, even for enterprises with deep pockets.
[adinserter block="33″]
When shouldn't I use a Low-Code Platform?
Like any tool, low-code development platforms have their limits. We turned back to Sarah Nord at Onspring for insight on when a business shouldn't use a low-code platform.
"If you're using someone else's technology to deliver your core product or service, you have to really consider whether you should develop that product yourself." said Nord.
In other words, you should not rely on a low-code platform to deliver a core function of your business. If you're building a marketplace for collectible sneakers and watches, for example, you should invest in a custom application stack to run your marketplace.
If you're trying to streamline your HR, however, low-code platforms like Onspring are perfect. "On our platform, we focus on capabilities that are broadly applicable to a vast number of different types of clients, different industries, different use cases," said Nord.
If you do decide to go all in and build your own application from scratch, we have you covered with the tools and knowledge to make it possible. Check out the rest of our developer resources here.