We Found the 23 Top Azure Managed Service Providers
| October 23, 2017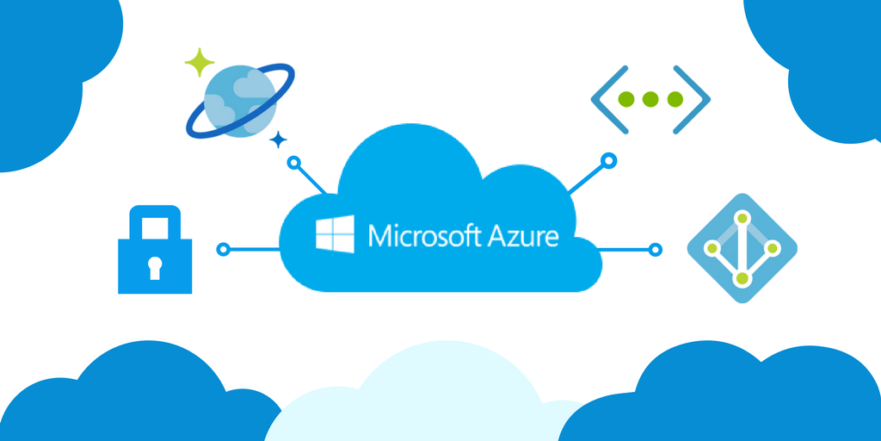 Microsoft Azure is a beast of a cloud platform. It's arguably the only true competitor to AWS, even though Amazon had a 4-year head start on building their cloud. What Microsoft has created is truly impressive, and all signs point to the Azure vs. AWS debate being far from over.
If you've decided on Azure as your cloud platform, you will not be disappointed. Trust us- we've been using Azure for nearly 5 years.
But with all that horsepower comes a mountain of complexity. If you're new to Azure, you might quickly become overwhelmed with trying to maximize the technology for your company's needs. It's no wonder there's an entire industry dedicated to helping businesses manage it.
If you've made the investment to go all in on Azure, it pays to work with an expert. Azure Managed Service Providers have seen it all, and they can help you get the most of your technology investment.
"Organizations who manage Azure themselves are missing out on the complete set of Azure capabilities. Unless you can afford to bring in multiple full-time resources for each of the different components in Azure, the organization is not really taking full advantage of the technology that they pay for," said Jason Medero, Solutions Cloud Architect and Managing Partner at B&R Business Solutions.
Whether you're planning a migration to Azure, or your business is already up and running on the platform, it's worthwhile to look into an Azure Managed Service provider. But with thousands of MSPs around the globe, where do you start?
We've done the heavy lifting for you and created a list of the top Azure Managed Service providers from around the world.
How we created this list
The first requirement for making this list was to be an official Microsoft Partner. We started our search by looking through Microsoft's Partner Directory.
Still, there are thousands of partner firms out there– some highly specialized in one or two Azure offerings, and others covering the breadth of the platform.
For the sake of making this list as useful as possible, we decided to focus on Managed Service Providers who offered a breadth of services.
We identified the 9 most important solutions for an Azure MSP to offer. Along with the fundamentals like security and Active Directory, we also included a few services particularly useful for high-growth companies: Cosmos DB support, Development and Testing services, and Azure Stack (Microsoft's new hybrid cloud) management.
Here's the entire list of services:
Azure Stack
Security and Compliance
Backups and Archives
Disaster Recovery
Cosmos DB
Networks
Active Directory Services
Development and Testing Services
Mobile Services
This step helped us whittle down the list to 170 managed service providers worldwide who offered at least one of these solutions. Since we are optimizing this list for breadth of services, we then identified the firms that offered at least 6 of the 9 services. (The only exception we made was for Accenture, who only offered 5. Since they are such a big player, we thought they should be included as an option.)
With just 40 firms remaining, we made one final cut. We removed all the partners who were not certified Gold, Microsoft's highest accreditation. That finalized the list of Azure Managed Service Providers you see here.
The chart below lists each of the 23 firms and their service offerings. Below the list, you'll find links to each of the firm's websites.
While breadth of services does not always beat specialization, each of these MSPs are proven experts. We are confident you will find an Azure Managed Service Provider on this list that will work for you.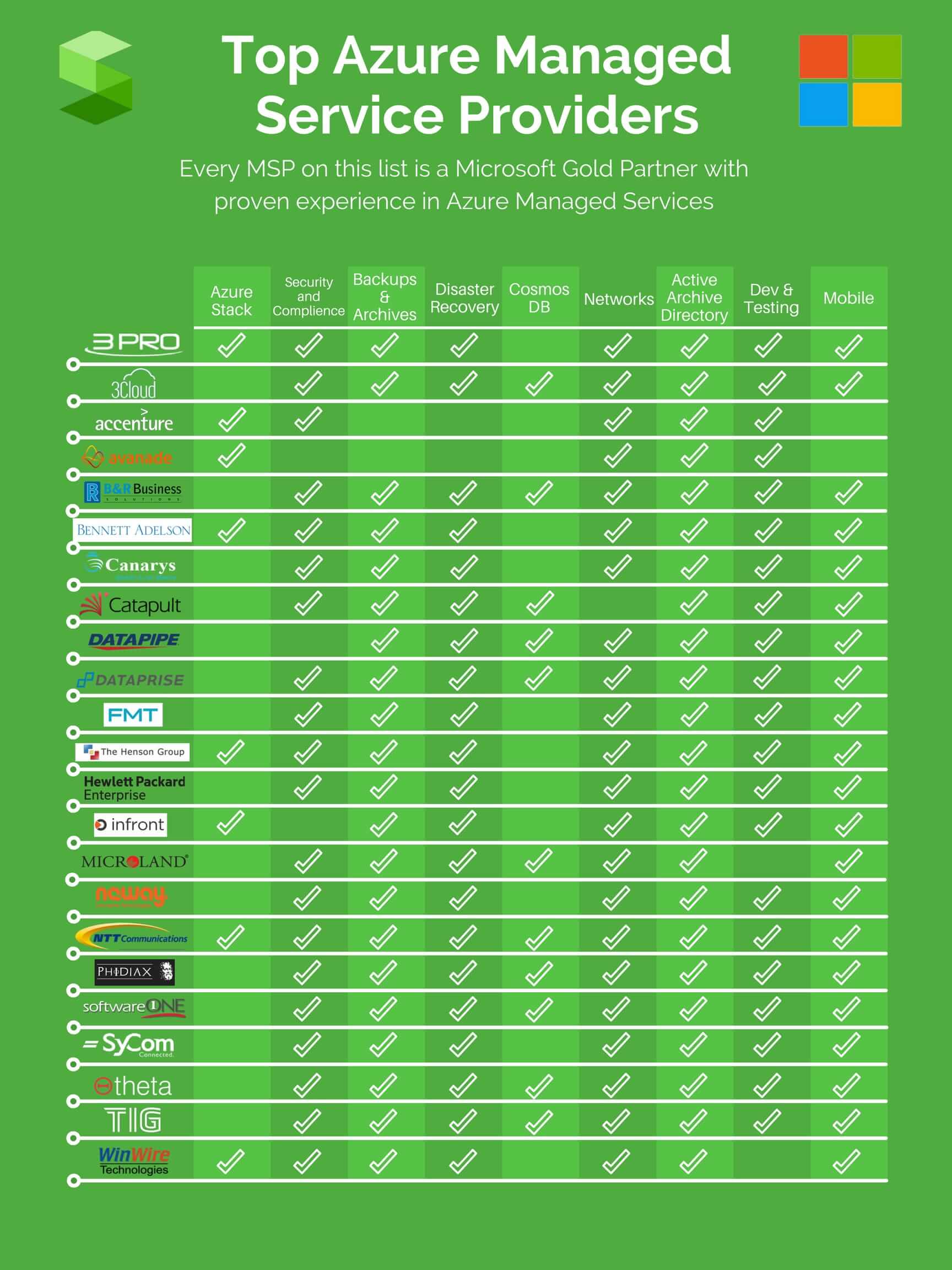 Azure Managed Service Providers
3 Pro is a Czech Republic-based firm that can take care of all your IT, business solution, and cloud needs. They are also IBM, Lenovo, Veeam, and Skybow partners.
3 Cloud is a consulting firm that specializes in helping businesses migrate to Azure. They also offer DevOps and IoT services
The international consulting firm recently partnered with Microsoft and Avanade to create the Accenture Hybrid Cloud. This partnership has created a great option for enterprise-level cloud needs.
Voted Microsoft "Partner of the Year" in 2017, Avanade has deep experience in managing Microsoft services for large businesses.
B&R has offices across the United States and focuses strictly on Microsoft products. Along with Azure, B&R are also Sharepoint experts.
From Azure Stack to Mobile Development, Bennett Adelson provides managed services for nearly all of your IT needs.
This Indian firm was a Microsoft DevOps Partner of the Year Finalist in 2017. Along with Azure, they have deep knowledge in DevOps and Mobile Development.
Catapult was Microsoft's United States Partner of the Year in 2016. They have been a Microsoft Partner for over 20 years and are expert Azure managed service providers.
Datapipe is an industry favorite and a pioneer in managed services for public, private, and hybrid clouds.
Dataprise has IT managed service solutions for businesses of all sizes. From Azure managed services to strategic consulting, they have the expertise to help you make the best technology decisions.
Whether you need Microsoft Azure, Dynamics, Sharepoint, or Office365, FMT has the deep knowledge and experience to manage your IT needs.
The Henson Group can assist you with all your cloud managed service needs, from public cloud to Azure Stack. They are also partners with a wide range of other tech companies.
HP Enterprise uses their industry expertise to manage your cloud (both public and hybrid), IoT, mobile, and data analytics needs.
Infront is a consulting and IT Managed Service Group that specialize in Microsoft Azure and mobility. They also take care of day-to-day managed service needs.
This international firm has been around for nearly 30 years and is a full service IT Managed Services Partner. They will help you develop the right strategy for using Azure.
NeWay is a Microsoft Communication Partner of the Year Finalist in 2017. Along with Azure Managed Services, they are experts in Unified Communications, including Skype for Business.
NTT is a global IT firm that provides Azure Managed Services, as well as network, data center and communication support.
Phidiax are cloud consultants and Azure experts. They work side-by-side with you to create custom solutions for your business.
This global IT consulting and managed services firm that specializes in Azure managed services, Software Portfolio Management, and Software Procurement Services.
SyCom specializes in cloud, data center, security, networks and mobility services. They are also a Cisco Gold Partner.
Theta is one of the top IT firms in New Zealand, with clients around the globe. Along with Azure managed services, Theta also provides solutions for big data, mobile development, and bot development.
TIG is an international firm based out of the UK. They specialize in cloud managed services and "transformational services", helping your business improve its technology use.
WinWire helps companies migrate and manage their operations on the cloud, as well as build custom applications for sales and marketing teams.
Get the Most Out of Azure
Microsoft Azure is an extremely powerful platform, but you'll only get out of it what you put in. Azure Managed Service Providers can help you get the most out of Azure and meet your business goals through superior technology.
If you're an Azure developer, check out our entire library of Azure resources.