Americaneagle.com and ROC Commerce stay ahead with Retrace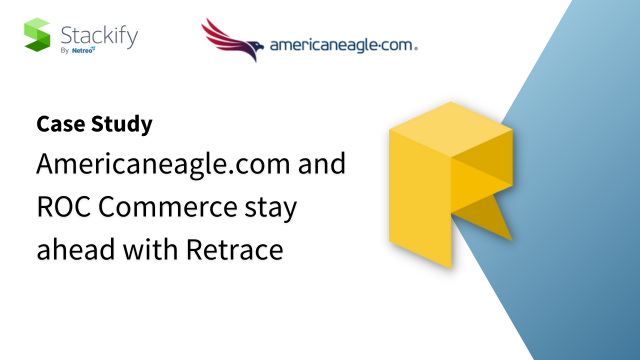 As a digital agency, the last thing you need are production issues for your ecommerce clients. The stakes are even higher when your ecommerce clients are running Super Bowl ads for millions to see. Instead of enjoying the game, you are faced with troubleshooting a dumpster fire.
The development teams at Americaneagle.com and ROC Commerce rely heavily on Application Performance Management (APM) tools, especially on high stakes game days.
"The ROI on these tools is so apparent," Ernesto Pye, ROC Commerce's Engineering Lead. "Not having a tool is negligent."
Americaneagle.com is a full service digital agency headquartered in the Chicagoland area, with offices throughout the U.S. as well as globally. Its sister company, ROC Commerce, provides an omni-channel commerce platform that runs in a hybrid environment with Windows servers and containers. The ROC Commerce platform is being deployed for various websites that Americaneagle.com manages, many of which are large e-commerce sites with a lot of traffic.
The Americaneagle.com and ROC Commerce development teams turned to Stackify Retrace after high price tags and a lack of insights from previous APM tools. After installing Retrace, they quickly discovered powerful and useful information.
"Retrace made identifying bottlenecks simple after a stress test, and we were able to quickly fix them," Pye commented. "We roughly doubled our traffic and order placement throughput."
ROC Commerce Senior Developer Ryan Stecker, charged with integrating web tools, including Retrace, said he finally had access to "a lot of data," commenting that Stackify's APM was especially insightful for developers and "made sense of that data in an easy to understand way."
In the past, Americaneagle.com and ROC Commerce had used various, well-known tools that simply couldn't meet their high standards
"That's the thing we love to do in dev with automation and running tests, troubleshooting proactively" Pye mentioned passionately. Stackify Retrace lets them do just that without limitations. "We executed stress tests that ran on our specialized environment and there were a few queries murdering our database" that we wouldn't have seen without Stackify Retrace.
ROC Commerce takes advantage of the unlimited Stackify Retrace users to help get their entire team to collaborate. "Stackify Retrace's pricing allows us to run diagnostics on more servers concurrently rather than having to constantly swap licenses around as needed." Pye explained.
The partnership between Americaneagle.com, ROC Commerce, and Stackify has been a mutually beneficial relationship. In fact, ROC Commerce plans to install Stackify Retrace on hundreds of Americaneagle.com clients.